Adventure Girl's February Green Award
Adventure Girl Green Awards are expanding! You've asked for it- so we're giving it to you! Adventure Girl Green Awards will be going "lifestyle!" We'll search high and low, look for products that are cutting edge, and taking a stance for the environment. Startling this month, we'll be looking at what's happening in the dry cleaning world, and one company who is taking on single-plastic bags and helping consumers and dry cleaners offer a more eco-friendly option to help save our environment!
Congratulations goes to
Green Garmento Bags
You've been chosen February's Adventure Girl Green Award Lifestyle…
Dry Cleaners have been accused, over the last few years, of utilizing the green movement for their own benefit without really stepping up and making change.
For example, switching from one toxic solvent to another equally damaging to the environment. Many in the dry cleaning industry state that the latest solvent, DF-2000 is eco-friendly, yet the EPA and environmentalists say otherwise. In fact, the EPA lists DF-2000 as a neurotoxin and skin and eye irritant for workers; and its use can contribute to smog and global warming.
An equally hot topic dry cleaners are having to deal with environmentalists on — single-use bags, which are used to protect each garment after cleaning.
Each year, the government estimates that over three hundred million pounds (300,000,000) of single-use plastic dry cleaning bags wind up in America's landfills and kill wildlife. Even with many dry cleaning professionals offering reuse-recycle drop off programs for hangers and bags, many clients are not taking advantage of them, opting to toss the bags instead of recycling them.
Now there seems to be an answer to appeal to both the consumer and dry cleaner that makes "green sense."
The Green Garmento is a reusable dry cleaning laundry bag, which turns into a duffle bag to carry clothes to the cleaner. The cleaner can then turn the Green Garmento into a hanging garment bag to protect clean clothes for the trip home, eliminating the need for single-use plastic garment covers. Garmento bags are easy to use, come in a variety of colors and sizes, and most importantly, are easy on our environment.
The company says, "though the concept itself is not revolutionary, the product is poised to create a revolution."
As they say in marketing, timing is everything. In the case of filling the need for both the dry cleaner and consumer, The Green Garmento's timing couldn't be more timely.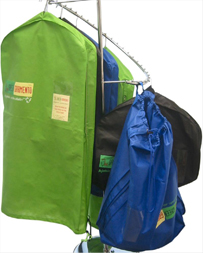 It seems that before The Green Garmento, neither legislators nor lobbyists could come up with suggestions for an alternative to the single-use dry cleaning bag, albeit they had helped the switch over from plastic to reusable options with supermarkets and retailers. Now with a reusable, recyclable product available at an affordable price, the transition for the dry cleaning industry can begin.
The Green Garmento co-presidents, Jennie Nigrosh and Rick Siegel, believe their patented product answers the needs of both the consumer and the dry cleaning industry. "We know the dry cleaning industry is doing everything possible to be 'greener,' just not at the expense of their survival," says Siegel. "In using the same recyclable material, polypropylene, that the large supermarket chains are offering, we've created a durable, attractive alternative that most people can afford."
Adds Nigrosh, "While our product cuts down on the carbon footprint of dry cleaning, we are also concerned about keeping the costs down so more people would be motivated to make the change."
With the consumer being educated and conditioned to bring their own grocery bags to the supermarket, it seems to be the next transition into how they handle their dry cleaning.
For more information:Â www.thegreengarmento.com
---
---

Adventure Girl's FEBRUARY Green Award Goes To…
Hotel Terra, Jackson Hole, Wyoming
So…What about 'um?
Proving that luxury and sustainability can join forces with unprecedented results, Hotel Terra Jackson Hole, which opened February 1, 2008, offers the exceptional amenities and services expected from boutique hotels, combined with environmentally sustainable building and operating practices, sophisticated design, superior service, thoughtful amenities, and up-to-date technology. The design of Hotel Terra is inspired by the stunning natural landscapes of Jackson Hole and its welcoming western sensibility, while also incorporating modern materials, clean lines, and urban touches. Hotel Terra presents vibrant and inviting public spaces for guests to enjoy: the Spa and Fitness Center, the 'Terra Living Room', a rooftop hot tub, two distinctive restaurants, and a snowboard retail and ski rental shop, As a condominium hotel, Hotel Terra's 72 guest rooms offer single guest rooms and one, two, or three bedroom suites. Each guest room or suite has Bose surround sound speakers, LCD HD Televisions and high-performance touch screen telephones; complementary WIFI is available throughout the hotel. Hotel Terra introduces a re-invention of luxury, where plush amenities, healthy spaces, extremely attentive service and beautiful design go hand-in-hand with total commitment to conserving our environment.
Activities- How Cool!
Cycling, Fishing, Dog Sledding, Skiing, Game Viewing, Golf, All Terrain Vehicles, Canoeing, Bird Watching, Snow Sports, Yoga, Nature Trails, Mountain Biking, Horse Riding, Hiking, Kayaking, Walking.
What they say, Why they are Green!
We take actions to: conserve heat, conserve water, install eco-friendly lighting, reduce oil/gas carbon emissions, compost waste food, recycle wherever possible, use bio degradable cleaning agents, use reclamation building materials, use renewable natural furnishings, source food locally, offer local employment, instruct staff in green practices, include green room info packs, conserve/care for wildlife in our area, We are US Green Building Council L.E.E.D Certified Hotel, an elite group of just 5 hotels in the United States Our commitment to creating an environmentally sustainable building means that the people inside are healthier, more energized and more comfortable. Low Volatile Organic Compound carpets and pads, sealants, paint, and adhesives have been exclusively used throughout. We have energy efficient heating and cooling systems, and lots of reclaimed, recycled and sustainable materials were used in the building itself and the items in the rooms, lobby and restaurants. Over 90% of the interiors of Hotel Terra have access to natural light and outdoor views. Bed and bathroom linens, are all 100% cotton from a free trade supplier in India. Our beds are 100% natural, custom designed and sleep tested. Our restaurants' menus rely on sustainable and locally sourced ingredients.