Bermuda-ful Days!!!
Hi Everyone!
Well, my days in Bermuda were not only adventurous, but "Oh-so-Fun"!
Here is a breakdown of what I experienced.
Day one- Once rested and somewhat a normal human being after a great night's rest at Elbow Beach Resort… Oliver, my guide and driver- picked me up early in the a.m. and took me to this fantastic riding center called Spicelands Riding Center. There I mounted (keep it clean you pervuses) "White boy".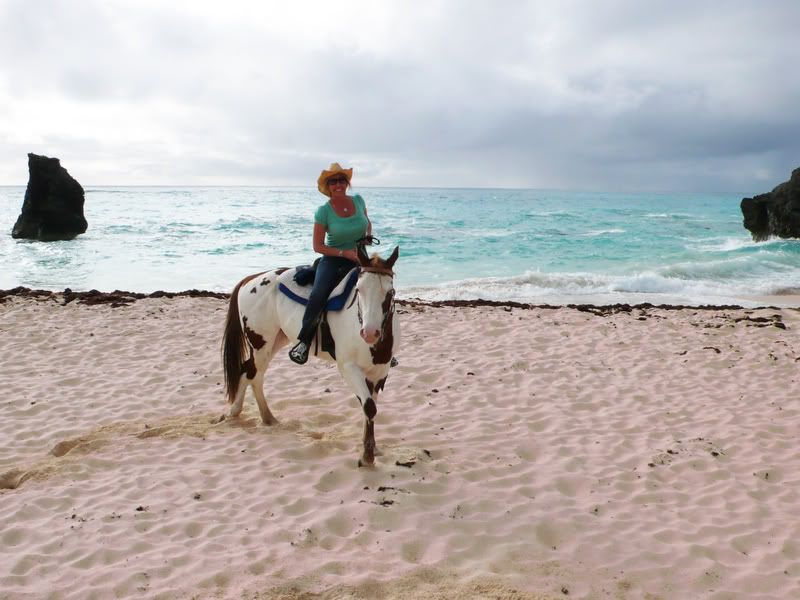 As Greg, my guide says- socially faux pas, but  apropo! We headed off for my guided ride where I learned about the island, some history and even learned that "All Spice" is not a mixture of spices- but a single plant.
My afternoon was equally fun. I met up with Darron Swan from Belmont Golf Course for my very first golf lesson. Darron said after lunch, I needed more practice- hmmm…. I think I should stick to being Adventure Girl, instead of going after my golf dreams and some day playing with Tiger Woods!
The Fourways Inn was where I lunched with a friend, and it was brunch! I adore brunches- especially for the desert portion. I must have tried- well, I really lost count- but trust me; the desert table looked sparse after I finished! LOL! Kidding.I had met these cool band cats at the Atlanta Airport. They were heading to Bermuda also, and invited me to the Jazz Fest they were playing at. So, that evening- I moseyed on down to the Fairmount South Hampton Princess, and watched them perform! Bob Baldwin ROCKED! Thanks Guys with the Clark Group for the invite.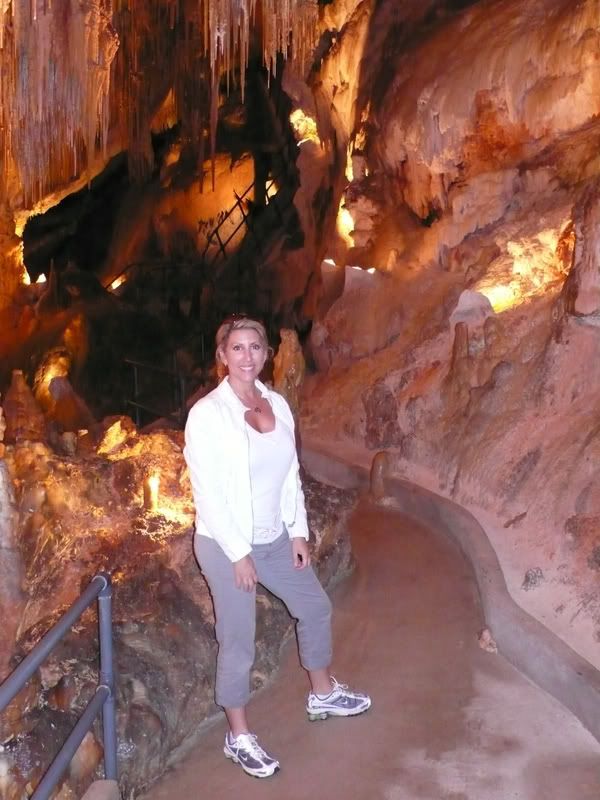 DAY TWO! Consisted of a tour of Crystal Caves and Fantasy Caves. A MUST DO adventure. Can you imagine stepping back into time and seeing creations from 30 million years ago- all living and changing and moving still to this day? An evolving process!I had a couple of down nights- and this was one of them. I stayed in room and ordered from my favorite thing of all- ROOM SERVICE!! I also had a few kitties that befriended me- so we all hung out and I just relished in some downtime.
DAY THREE: The next day was my final full day- and what's an Adventure Girl to do post being adventurous? SPA of course. Elbow Beach, again out does itself with their on sight spa- I tried their new signature treatment called the Swizzle Treatment- You're scrubbed with this yummy citrus and pineapple scrub, then transfer to luxuriate in a soaking tub filled with pineapple, orange and lemon spices, while drinking a RUM SWIZZLE drink- followed by an hour massage and scalp massage. HEAVEN!
That night I dined at one of my favorite restaurants on the island, Waterlot Inn. It's a steakhouse and nominated as best throughout the Carib. I don't eat meet or poultry, and opted for their sumptuous soft shell crab and fish chowder. DO NOT MISS their date brownie with handmade vanilla ice-cream in a caramel shell. OH-MY- orgasmic!
One more thinkg to mention, which I absolutly loved! The SPCA of Bermuda has a feeding station in the back of the Elbow Beach Hotel.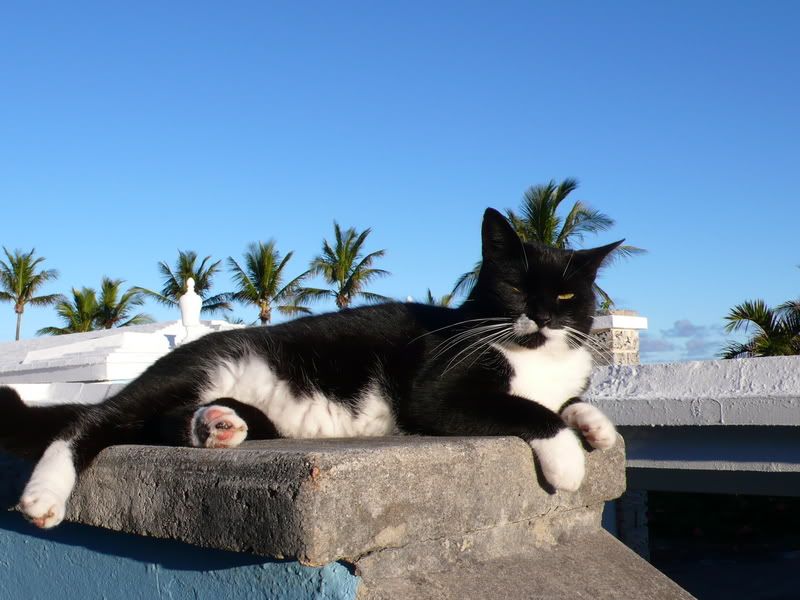 More than 50 cats live on property and are taken care of all at Elbow Beach! Applause-Applause. More cats have been spayed and nuetered there and the SPCA feeding station is a huge success! Every night aorund 5:00 pm- head to the back of the hotel and watch and or help with the feeding. THANK YOU ELBOW BEACH for your kind hearted efforts to our animal friends. Here are a few of my favorite sweeties who befriended me while I was there. I call the Calico one "Ms. Bermuda".
I left with so much more to see and do, and kept thinking I was missing something…All of you! So I will be working on some fun promotions and adventures so that you all can come and join me on my next Bermuda adventure!