Adventure Girl's March Green Award Goes To…
URBAN Hotel- Shanghai, China

So…What About'um?
URBN Hotels & Resorts is a specialized boutique hotel and resort company based in Shanghai, China. Its focus is to immerse travelers into their surroundings, beyond offering a traditional hotel experience. Localized extra services such as tai chi and yoga classes, in-room beauty and traditional health treatments, unique bike and walking tours, Chinese cooking classes and basic Mandarin Chinese lessons are available to enhance every stay. URBN Hotels, Shanghai is set in a vibrant hub of local activity tucked amidst shops, restaurants, colonial lane houses and the famous former French Concession. Conveniently located two blocks away from Nanjing Road – Shanghai's premium shopping, entertainment, and business district – URBN's mission is to embrace the surrounding city and embody its culture. They have created a sense of place that reflects the past, present and future of the city. Old Shanghai is revealed in walls of original brick, floors of reused indigenous wood and an array of traditional Chinese services. In parallel, the contemporary design and amenities draw on the energy of a younger, modern Shanghai. Their goal, beyond providing guests with the most comfortable and pleasurable stay possible is to connect them to the heart of urban Shanghai. A city is more than a tourist destination – it is a place with unique character waiting to be discovered. Whether for business or leisure, URBN offers an unforgettable boutique hotel experience in Shanghai.
Activities- How Cool!
Cooking, Cycling, Motor Biking, Yoga, Golf, Painting, Walking, Tai chi, Mandarin lessons
What They Say/Why are they Green?
Alternative Energy Resources
Dietary Selections: Vegetarian
We take actions to: conserve heat, install eco-friendly lighting, reduce oil/gas carbon emissions, recycle wherever possible, use bio degradable cleaning agents, use reclamation building materials, use renewable natural furnishings, offer local employment, instruct staff in green practices, include green room info packs, conserve/care for wildlife in our area.


http://www.urbnhotels.com
Adventure Girl Green Awards have expanded!! You've asked for it- so we're giving it to you! Adventure Girl Green Awards will be going "lifestyle!" We'll search high and low, look for products that are cutting edge, and taking a stance for the environment. Startling this month, we'll be looking at what's happening in the dry cleaning world, and one company who is taking on single-plastic bags and helping consumers and dry cleaners offer a more eco-friendly option to help save our environment!
Congratulations goes to
Fields Organics' Kid Friendly Travel Cleaning Kit
You've been chosen MARCH's Adventure Girl Green Award Lifestyle…
PARENTS WILL LOVE THIS!!!
Fields Organics' full line of organic, non-toxic household cleaners were created especially for homes with children. These organic cleaners are plant based, phosphate free, ph balanced, and biodegradable.
It's safe and gentle around children, but tough enough to get the job done! Now take kid friendly cleaning wherever you go with this travel pack!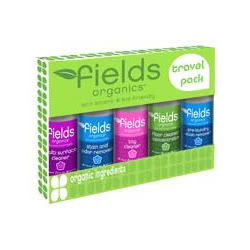 The pack includes (5) 4 oz bottles of: Multi Purpose Cleaner Lavender Mint – ideal for environments that must be absolutely clean and hygienic, such as changing tables, high chairs, strollers, bathrooms, and playrooms.
Toy Cleaner Tea Tree – enhanced with tea tree oil, which is known for its natural antiseptic properties, perfect for toys made of plastic, fabric or wood.
Unscented Stain and Odor Remover – pre-laundry stain remover for babies clothing and linens, works well to remove formula, food, vomit, urine and other stains from upholstery and carpet.
Eco Sensitive Laundry Detergent, – uses plant-based surfactants that will not expose your child to any harmful chemical residues or fumes.
Green Tea Floor Cleaner – the formulated concentrate contains a vegetable based protein that is safe for your children but hard enough to clean your floors.
Fields Organics' products contain no VOCS, and are packaged in recyclable packaging along with recycled paper lables printed with soy ink. They meet all local, state and federal EPA requirements.
Fields Organics also has a strict no animal testing policy and 100% vegetarian ingredients. Travel Pack (All Five) 5 4 oz Bottles 19.50


You can find it at: GreenHome.com
and for more information- Field Organics'-Â www.fieldsorganics.com